5 Things to Do This Week
28 June – 4 July – Our top 5 things to do this week
Summer has well and truly arrived. There are some amazing events happening around the country (and online) this week. Here's our pick of what's on…..
FESTIVAL: Summer Nights
The 2021 Irish Times Summer Nights online festival takes place from the end of June, with a host of high-profile guests including writers, politicians, and actors in conversation with Irish Times journalists. The festival takes place over four evenings from Monday, June 28th, to Thursday, July 1st.
Monday's guests include CNN correspondent Donie O'Sullivan, economist and Irish Times columnist David McWilliams, and Moone Boy and Bridesmaids actor Chris O'Dowd.
Among those on the bill for the festival are actor Cillian Murphy, Women's Six Nations star Linda Djougang, author Roddy Doyle, and singer Chris de Burgh, who will be in conversation with Ross O'Carroll-Kelly creator Paul Howard.
Link: Irish Times
FESTIVAL: International Festival for Irish Harp 2021
An unforgettable Harp Experience awaits you at Cairde na Cruite's online Harp Festival 2021. Running until 2 July the festival includes Morning Workshops, Lunchtime Concerts with the Rising Stars of Irish Harping, Afternoon Events, Evening Concerts, Early Irish Harp, Harp Play-alongs, Talks & Lectures, Songs and Stories, Harp Makers and much more
Link: Cairde na Cruite
CULTURE: "Night earth and air of California": Seamus Heaney and the influence of American life and culture
The National Library of Ireland will mark July 4 – American Independence Day – with a special lecture by Sophie Doyle. She will take us through how American culture impacted on the work of Seamus Heaney. She originally presented this lecture earlier this year in March as part of Ireland- America Month.
Throughout his life, Heaney worked as a visiting professor for universities traversing the length and breath of the United States. During these periods, Heaney was introduced to figures who transformed his views on poetry and its relationship with the world around him.
Sophie will look at some of the work that came out of Heaney's time in America and ask the question of whether it would ever have come to fruition without this dedicated time away from Irish shores.
Link: National Library of Ireland
POETRY: Kanturk Arts Festival – Poets' Trees
The Poets' Trees Project is a collection of original poems submitted by local poets and those with some connection to Kanturk for an outdoor poetry installation on the magnificent trees on the banks of the river Dalua in O'Brien Street Park, Kanturk.
Submissions came in from all ages from 6 to 90+. Near 70 poems on subjects from lockdown to rugby and everything in between were submitted. You are invited to take some time to stroll through the trees and read the some poetry and return another day to read some more.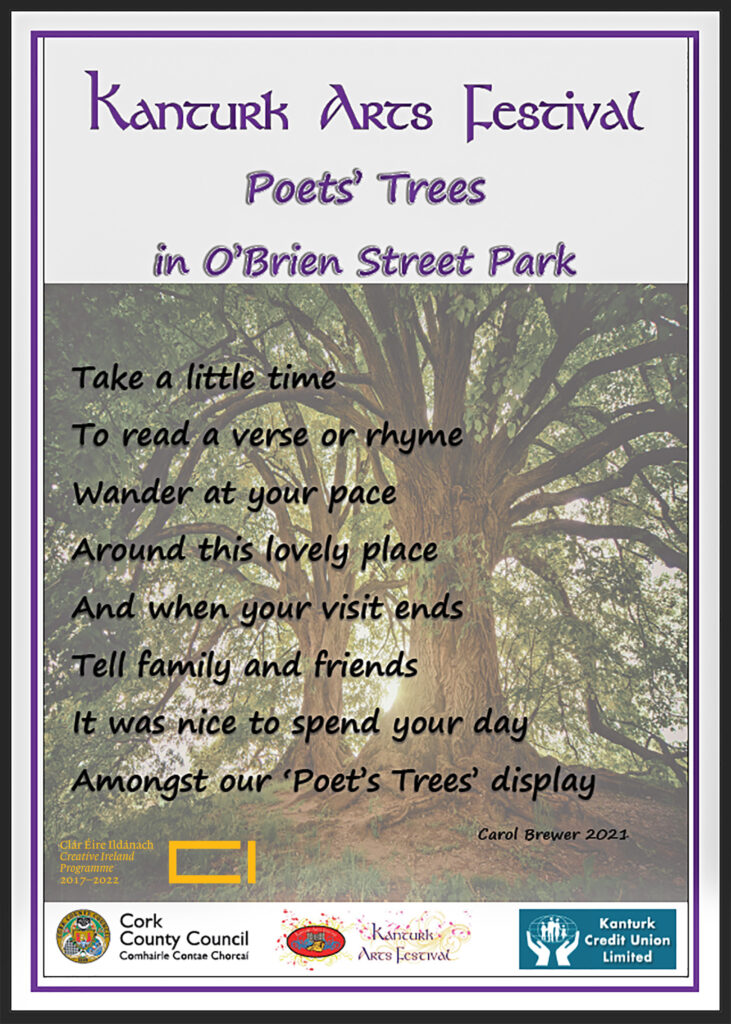 Link: Kanturk Arts Festival
FESTIVAL: Clonmel Junction Arts Festival
Celebrate Clonmel Junction Arts Festival's 20th anniversary at the exciting new pop-up venue, the Junction Dome. Join them for live & livestreamed music, theatre, spoken word, art trails and more in Tipperary's largest town. Celebrating 20 years of bringing people and arts together in county Tipperary's largest town, Clonmel Junction Arts Festival will be both live and online starting this Saturday.
Link: Clonmel Junction Arts Festival
Finally, all details on our list of things to do are correct at time of publication. Please check with the organiser before finalising your plans. In addition, we ask that you are mindful of the current HSE Covid -19 guidelines at all times.
We are always looking for the best things to do around Ireland…
Do you have a great event coming up? So tell us all about it here.